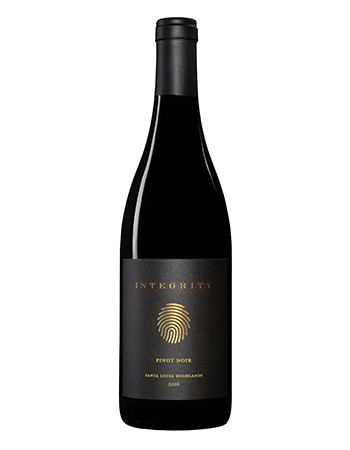 Wine Specs
Harvest Date
September 7, 2018
Aging
100% French Oak; 30% new
Bottling Date
August 17, 2019
Wine Profile
Tasting Notes
Bursting with fresh, bright aromatics, the 2018 Santa Lucia Highlands Pinot Noir is a gorgeous ruby-garnet color with a shimmery translucent rim. This intensely complex pinot noir features Bing cherry, crushed pomegranate seed, red raspberry, fresh violets, black tea, fennel, newly cured leather, and a bit of damp soil on the nose. Once in your mouth, the wine transforms to rich raspberry jam, ripe strawberry, cedar, and dried lavender, and lingers with a minerality reminiscent of crushed stone and graphite.
Vineyard Notes
This gorgeous vineyard of gravely, alluvial loam soil is well drained and its western slopes overlook the Salinas Valley. Though cooled by the afternoon and evening ocean breezes, the highlands Pinot got pushed by a late August/early September heat wave. This caused slightly riper fruit than typical. Despite this, the fruit was healthy and still well hydrated. Some lignified stem material was present which we kept in the lots through fermentation to later enhance the wine quality.
Production Notes
The grapes were destemmed and then put in a 5-day cold soak phase to boost extraction of color and flavor after which we fermented in two different lots. After starting with native yeast we augmented with two different yeast protocols. After pressing on Sept 17 the wines were combined and settled and then transferred to 100% French Oak barrels. Then began malolactic fermentation that completed naturally. Early winter taste testing showed that additional new oak in influences were warranted. The wine got its first racking and was returned to include more new French oak. The wine clarified naturally and was lightly filtered prior to bottling.
Winemaker Notes
Given the riper fruit, this wine was best suited made in the new world style verses the previous vintage done more in the old world style. During the cold soak phase there was a high level of extraction. The lots began fermentation with the native yeast, which we followed with an inoculation of a controlled yeast protocol in 2 different lots. The healthy fermentations proceeded normally. We racked off the free run wine and gently pressed the must, settled off the gross lees and transferred into 100% French Oak barrels September 19. In late spring of 2018, the nature of the wine began to express itself: a classic SLH Pinot Noir with rich red cherry notes and a dark hue. This wine exemplifies the best of what you would expect from this region.
Food Pairing Notes
With well-balanced acidity and subtle tannins, this wine can be easily be enjoyed on its own but will do well when paired with ribs, pork chops, juicy roasted duck breast, fresh salmon, or even a meaty white fish such as halibut.